The Sahara Forest Project is hereby putting forward a call to Tunisian academics. Submit your abstract today!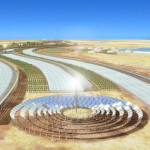 In Tunisia, desertification and land degradation affect about 75% of the national territory. Climate change impacts are projected to increase water scarcity and the frequency of droughts and flooding. At the same time the national renewable energy production is targeted to rise from 1 % to 30% of total energy production within 2030. Leaders in politics, academia and business are increasingly concerned with the interlinked challenges in the food-water-energy nexus, recognizing the need for implementing more integrated and forward-looking solutions.
The Sahara Forest Project is now putting forward a call for research abstracts identifying climate-smart solutions to address the food-water-energy nexus and reversing desertification in Tunisia.
The Sahara Forest Project is currently engaged in several activities in Tunisia. This includes feasibility studies for a Tunisian Sahara Forest Project facility and carrying out studies to identify new green growth opportunities. As part of this work we will arrange a high-level conference later in 2016 where we wish to contribute to promote and recognize powerful ideas and science from academics in Tunisia.
We encourage collaboration with students, researchers and academics to develop improvements to our systems and/or make us better positioned on relevant research topics in Tunisia. Our primary focus is sustainable technological solutions that can contribute to increased food, water and energy security in Tunisia. Ideally these solutions are offering positive benefits to more than one sector (food, water and energy). We are equally interested in solutions indirectly affecting the food, water and energy nexus through addressing opportunities for revegetation or halting desertification.
Calling for Tunisian academics – How to submit:
Please send us a short abstract in English – max two A4 pages (including references) – using the template below.
Send your abstract to our Project Manager Christina de Poitiers: christina@saharaforestproject.com
Deadline: June 1st 2016
Why should you apply?
Submissions will be reviewed for its applicability, innovation and novelty to the Sahara Forest Project technology concept and/or for its potential to in an integrated manner address food, water and energy security. Based on the submissions we look forward to engage in dialogue with relevant applicants to explore opportunities for further cooperation.
Selected applicants will also be invited to present their academic work and ideas to business leaders, politicians, researchers, NGOs and media at a high-level international event in Tunis in October 2016.
About us
The Sahara Forest Project is a Norwegian-registered company with a new environmental solution designed to utilize what we have enough of to produce what we need more of. We are using deserts, saltwater, sunlight and CO2 to produce food, water and clean energy.
For more about our work, our technologies and the synergies we work with please visit www.saharaforestproject.com
Style Template for Abstract submission 2016
First A. Author1, Second B. Author 2 and Third C. Author2
1 Department, Organization, Country.
Author email address
2 Department, Organization, Country.
This document is a guide for users of Word. Please restrict your document to two pages.
The title should be 14pt, the authors and their affiliations in 12pt, both centered.
You need only insert the email address of the corresponding author. Please note that figures and tables are optional.
The page size is standard A4 (as in this template), with margins of 2.54 cm.
Please use Calibri 11pt for the main text.